May 16th, 2015
Where Dreams Are Born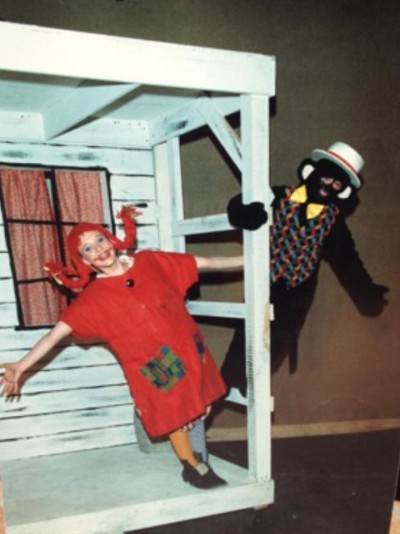 ARTISTS FACEBOOK CHALLENGE. DAY 2.
If you were an Arizona theatre kid in the 80s, you wanted to be Kristen Sampsell so bad. She was beautiful, sang like an angel, and had just enough mystery to keep you intrigued. So, when I got to be the Mr. Neilson to her Pippi Longstocking, I didn't care that I was wearing head-to-toe faux fur and some innocent version of blackface; I had arrived!
That's what Greasepaint Scottsdale Youtheatre was for us. Like Neverland before it, it was a place where the big kids got to play as adults and teach us that "it gets better" before that was a thing, and the babies had our spotlight moments before our tenth birthdays. And the process continued. New babies came in, and the roles adjusted accordingly. I always thought that these early days meant so much more to me than they should. But after reading Amanda's Facebook Artists Challenge post and its comments, I realize that what Wendy Leonard did more expertly than block some scenes or choreograph some dances is create a family. Perhaps that's what young creatives need most; it's not just about the stage but also about feeling you belong there.
Wendy gave us that.
Now, as the photos indicate, mine was a less glamorous and often hooded spot in that family. I played a penguin, a goose, a cricket, a monkey, a pig, a fairy, a bear, a scarecrow, a witch, and a grumpy dwarf. I mastered the tight French braid at an early age, and ironically Little Red Riding Hood was one of the few roles where my real hair wasn't masked by a hood. Even at my most triumphant "human" moment as Audrey in Little Shop of Horrors, my hair was tucked up under my wig. I'm now wondering if my entire theatrical career could be subtitled: I want to be a blonde! But Audrey did work in a flower shop, another irony not lost on me given my current horticultural endeavors.
The point is that Wendy gave us so much more than a stage. She gave us a community that has lasted beyond the fire engine red lips of these photos. And when we lost a member of that community nearly a year ago, we found each other again, this time on the other side of the rainbow, but equally intertwined.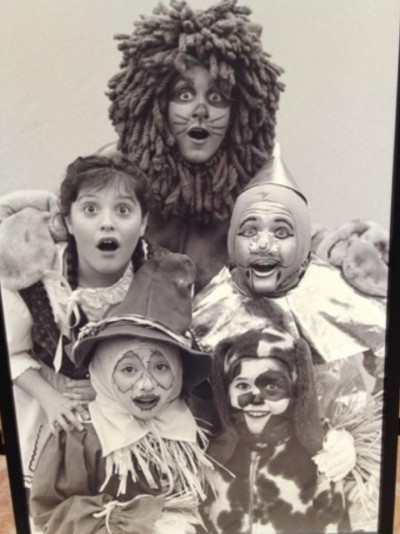 So, on that note, today I'm nominating a few I met once upon a time on this childhood stage, but who stayed with me on this daunting journey through wonderland: Ezra Weiss, Nancy Perla Michaelis, Sarah Kane, Ryan O'Connor. (Yeah, I nominated 4. It's ok, you guys.)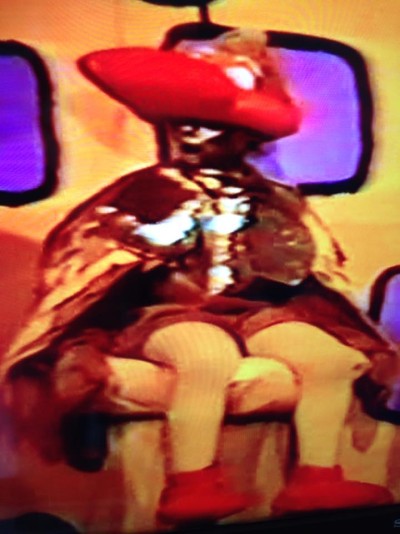 And before signing off for the day, I need to say some things about Jack & the Beanstalk. I had done other shows, but this was the first one I auditioned for, as in, this was the first time I could have been rejected! So, in some ways, this might be where my sense of self began. This is also where I first met the greatest dancer I had ever seen, Sarah Calvin (who was also allowed to wear colored Keds instead of just white), the artist forever known as my giant, Kerr Lordygan, and the beauty, Little Miss America herself, Amanda Paytas Stevens.
It was 1987, and Amanda and I were to become best friends, but to my little child brain, Amanda's magical harp and my golden goose could not be more different. Amanda's lines were in verse and spoken on command. My lines were "honk, honk" and said whenever I wanted. Amanda's costume highlighted her natural beauty, and she had glitter sprinkled in her blonde hair. I had my face painted gold, I was wearing a hood, my duck bill was too heavy and would fall over my eyes, and my little webbed feet made me waddle.
Just watch the video on Facebook, kids. And forgive me!