January 11th, 2014
Sleeping Bella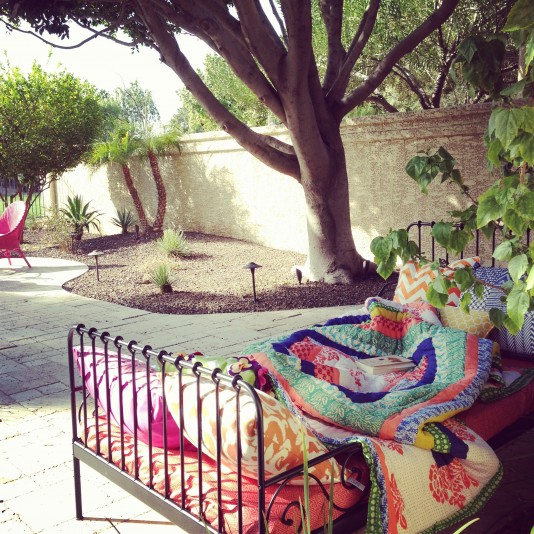 Look, I just did a 10-season Friends marathon over the holidays, so maybe Ross has shouted, "We were on a break!" one too many times, but I can't help but agree. I've been on a break. Perhaps it doesn't have to be a break-up or a break-down per se; it's just a break. As such, I have my fairytale muses all mixed up, but given that my favorite purchase for my new home was this Ikea children's bed that I put in my backyard, I'd say I've become more Sleeping Beauty than wandering Alice.
For awhile now, I've been saying that I'm having a post-fashion moment, but the beauty of fashion is that it takes all kinds of superheroes, and it will adapt and find you in your moment, even if you're curled up in your colorful Anthropologie blanket, slowly sipping your french press coffee hoping it will stir you to the next adventure. But I've always said that the adventure is in the journey itself, so I will wait no longer. I will embrace this moment for what it is and reveal to you my current wardrobe: SLEEP MEETS STREET. There are a lot of sweats, but in my defense, both the sweatshirts and the sweatpants are shrunken and fitted. However, if I hit a bag lady moment where I'm more Evil Queen delivering an apple than pretty princess napping, I hope you won't hold it against me. For now, there's been this: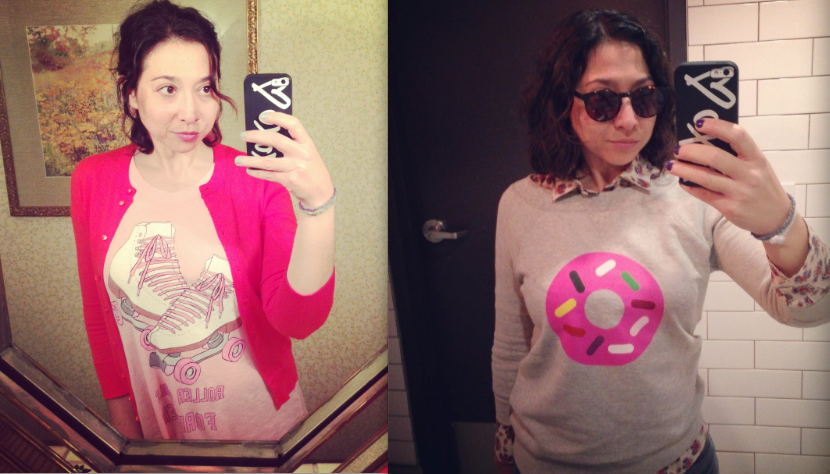 An old Wildfox tee plus J.crew cardigan. The Kate Spade donut sweatshirt from Fall13 with a paisley button down.
This Free City "I Love You" sweatshirt that is as soft as it is darling and makes me wish I owned everything Free City makes (spoiler alert: Free City isn't exactly priced for a Sleeping Beauty salary).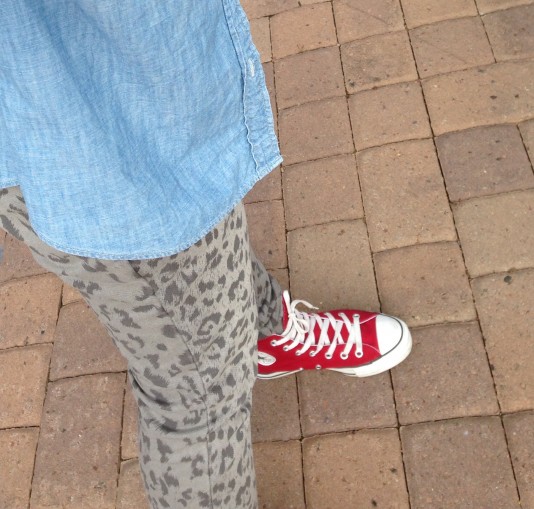 And my favorite: the Current/Elliott snow leopard sweatpants. A little bit sleep. A little bit street. Just the way I like it.
In an equally triumphant moment, the girls behind Current/Elliott have developed a line called Emily & Meritt for Pottery Barn Teen. It is brilliant and has my indoor Sleeping Beauty chamber looking like this: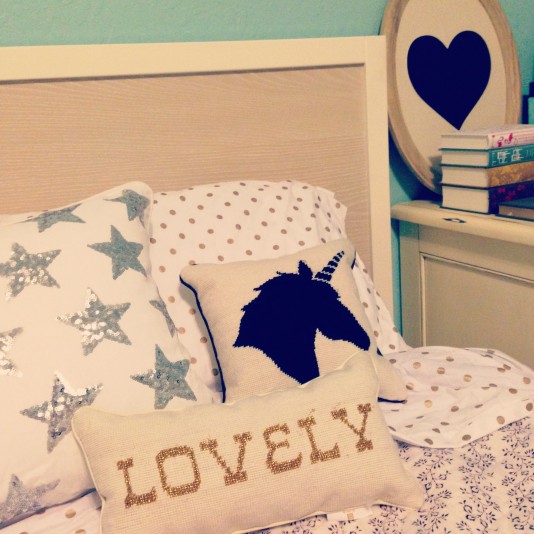 So, I like a world where every bella gets a prefix. You met me as a bouncing bunny bella, but then I took a break. I traded in my bounce for a nap until I met an Isa-bella. What Isabella reminded me is that while my story may not be "conventional," it is special to those who get it. And I like those! The beauty of the fairytale is that any kind of Jack and any kind of Jill can find a happy ending….even if they take a little nap in the middle. Perhaps the nap can even be helpful. Truly, how else would Alice have gotten to Wonderland or Dorothy to Oz? A bella needs her sleep to conjure her big adventures!
So, maybe Sleeping Beauty wasn't cursed. Maybe she was just a dreamer.