December 24th, 2011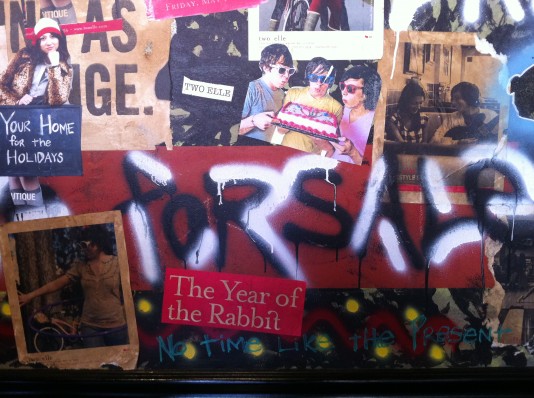 Lately, I've been adding bits and pieces to the wall to better reflect the changes and the journey. But sometimes, despite my best efforts to write the story myself, a once-hidden truth reveals itself without my help. Earlier today, forever friend Arnold purchased 2 of our racks. As we cleared off the clothes and wheeled them away, nestled under images of days and bands passed, was a message I had written years ago: No time like the present.
In April of 2007, a small group of friends and family pulled late nights at a little house on 12South to open a new concept store. During the summer of 2009, a far larger group of friends and family pulled late nights at the Hill Center to, among other things, write our story on the wall. Today, I stand alone, a girl who stumbled upon a grand adventure, picked up some colorful characters along the way, learned from the flowers, played her cards right, and found her way back from wonderland. And today, my writing on the wall speaks for itself. There is no better time to climb out of that rabbit hole and write the next chapter.
And so, dear friends, we close our doors. The rabbits will surely continue to hop, and I will continue to follow them.
But for tonight, I say goodbye, old friend.
xoxo,
rachel