May 17th, 2015
ARTISTS FACEBOOK CHALLENGE. DAY 3. THE PCDS YEARS.
Today's installment takes us back to the PCDS Eagle's Nest, a somewhat prickly scene from which one allegedly cannot escape. Aside from teaching me that I was more comfortable on stage than anywhere else, Greasepaint had taught me the mechanics of performing, like how to memorize lines, learn choreography, or fill a large room with my voice (a lesson, truth be told, that didn't require much teaching). By the time musical director Schert arrived at Phoenix Country Day School, I had my tools, I had home court advantage at my own school, and I was ready to use that big voice both on and off the stage.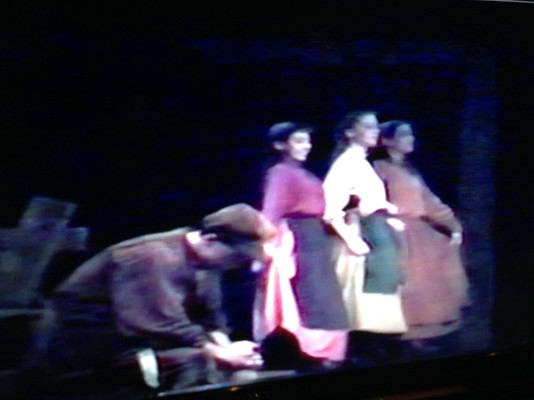 At a New York PCDS reunion many years ago, a phrase circulated. "PCDS: we don't get them smart; we make them smart." Now, surely this was never the school's official slogan, but the fact remains that something changed for me on that PCDS stage. My brain became bigger than my voice. Maybe it was just age (is there anything worse than a teen artist?), maybe it was the zeitgeist (angst was all the rage in the 90s), or maybe it was because I had a director who listened, counseled, respected, never pulled rank although it was completely within her right, and persistently made me feel like I was a part of the creative process. Looking back, this is precisely what I aimed to do with my own creative team long after I left that Eagle's Nest, which perhaps explains why, on the last day the store was open, I wrote, "Thank you, I love you, goodbye," on our chalkboard walls, a phrase only familiar to little Eaglets.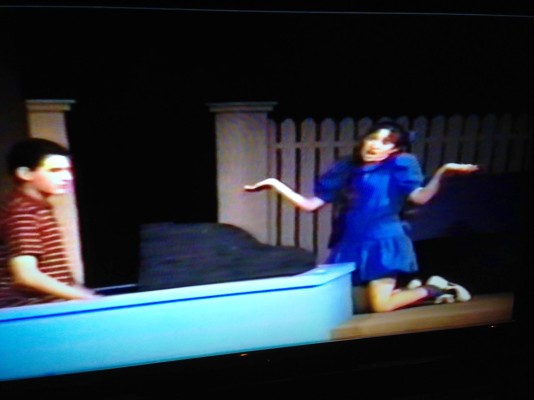 So, the facts are these: PCDS is where I became aware of the audience, and that relationship continues to affect and haunt my journey through the arts. I can pinpoint this moment when Lucy sings to Schroeder as the exact moment when I became aware of WANTING the audience's laugh. Mostly because Ezra Weiss always got the bigger one. And apparently my future fashion choices were also modeled on this moment, because I refuse to quit the saddle shoes and little blue dress.
It is perhaps fitting (and to the advantage of those alumni who went on to bigger and less creative things) that I have only fuzzy, ghost-faced images to share, screenshots from the videos that, yes, I watched last night. I carry with me no staged images of those days, only the rough, dated, complete story.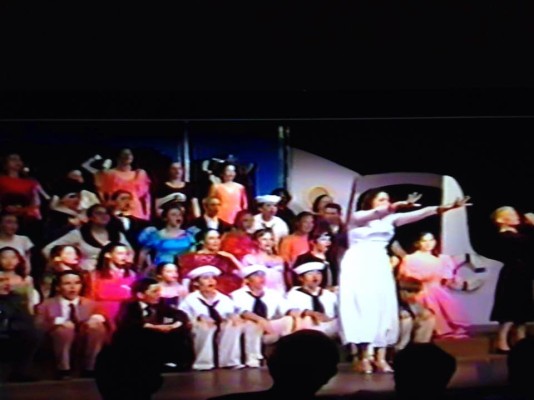 But let me discuss a couple things I learned from those videos.
You're a Good Man, Charlie Brown: This was an unconventional PCDS musical. It took place in the fall, because Schert was pregnant, it featured a 6-person cast, and half of those cast members were in middle school. Schert, I'm sure this decision was both a challenge and a risk. I remember thinking at the time that our casting was perfect, that we were all playing the roles we were born to play. After watching it last night, I still agree. Peter Chiarelli & Ezra Weiss, you were delightfully honest, and, although I still dress like her, I wish I had the confidence and freedom of that little girl playing Lucy. Thank you. To all of you. To the boys, for sharing that stage with me. To Schert, for both trusting me and for allowing me. To my mom, for making that outfit that I apparently never took off. And to the audience, for revealing yourself.
Pirates of Penzance: Due respect to Kevin Kline and Johnny Depp's Jack Sparrow (who came AFTER), but Jonathan Ashley is the best Pirate King to walk either stage or plank. I'll spare you all the proof, but watching our scenes reminded me that being a pirate was perhaps the most fun I ever had on stage.
So, because we're talking about the plight that is the teen artist, today I nominate the teachers, past and present, who help wake the dreams and muddle through the occasional nightmares that accompany them: Brenda Schertenlieb, Becca Edwards, Erin Lynch.
[With a quiet nod to Linda Bryant, the only art teacher who ever made me feel like I belonged at the table.]
[As long as we're calling upon our teachers, if grammar is an art, then Louise Crabtree is unequivocally my favorite artist.]