January 13th, 2013
One year ago right now, I opened this door for the last time, and I wrote this on the wall:
Only 24 hours before, wonderland was empty, and I had taken to the stage for a photo shoot.
My dear friend and photographer Stephen Gilbert had asked many times if he could capture me in my space. I waited, as is my way, until the very final moments. The former factory was empty, but the music was loud, and the lights were bright. We danced the last dance.
I was so pleased when he posted his piece on me a few days later. I loved the imagery, of course, but if possible, I think I loved his words more. I remember reading them and feeling flattered, but I also remember noting that a day would come in the future when I would recall his inspirational telling of my own tale. I knew that I would journey on after our dance but that eventually I would stumble and revive his words as my mantra.
So, here we are, one year later, and I continue to visit his site and his magical version of my moment. And I can't think of a better way to celebrate the anniversary of the day we scraped our name off the window.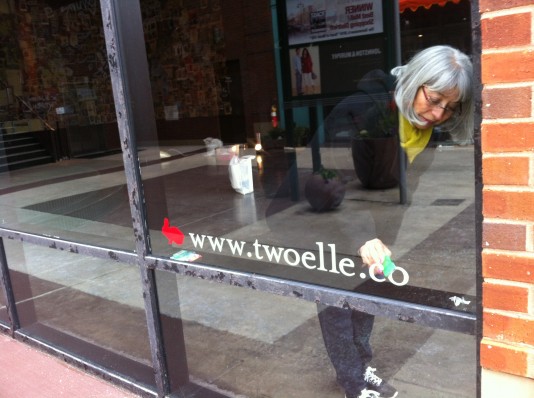 I may have locked up these red doors for the last time, and I may have turned in the keys that opened them so many times. And if I'm being honest, these doors that traveled from New York to Nashville to keep our wonderland safe inside were one of my proudest moments and one of the many that I wish I hadn't left behind.
But if the mantra bestowed upon me by one Stephen Mitchell Gilbert is correct, then the magic is in the moment. Doors and walls and windows stayed behind, but I packed up the sparkle and the music and the dance. One day, I won't miss those doors, and my hand won't ache because it can't write on that wall. And on that day, we will dance again. For now, I turn to another artist friend, Bob Roman, who tagged my wall with some relevant anniversary inspiration.