February 9th, 2014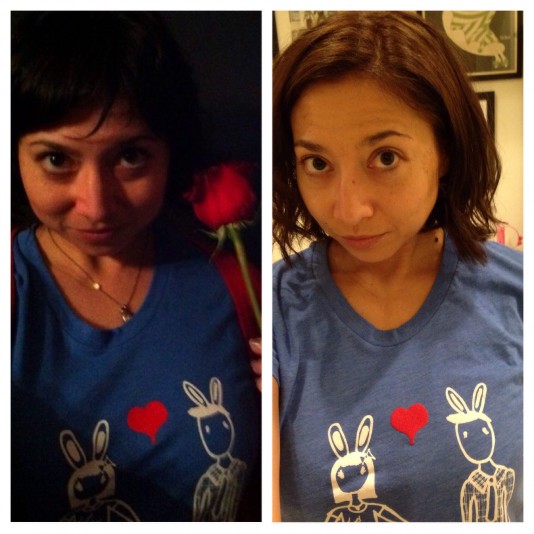 When I announced to my New York friends in 2005 that I was leaving for law school in Nashville, TN, everyone had wisdom to offer. A fellow traveler who spent high school musing on Nietzsche with me said that some Southern gentleman would likely sweep me off my feet. That's not what this love letter is about.
My female friends encouraged me to be more guarded. "Don't lead with the crazy," they said. They feared the South wouldn't embrace neuroses the way Manhattan had. While in the South, I should smile, keep my head down, and hide the eccentricities. I complained to them that hiding didn't suit me. I felt, as always, that ultimately I wanted to reach out and find all the other misfits. I told my friend about how I wanted to one day create a place where teenagers could go to feel welcome and empowered. "But Rachel," she said, "not everyone hurts the way you do. Those teenagers are fine. They don't need your help."
And for some reason I believed her.
So, I settled. I hid my discomfort, gave up that notion of helping the flawed and wounded, and kept moving through the paces of law school. Eventually, I saw a movie called The Devil Wears Prada and realized that smart people could do fashion. (OK, everything is obviously more complicated than that, and I had actually worked in the fashion industry for 6 years before going to law school, but that is also another story. The point is: that summer I left law school and chose fashion.)
I began dreaming up my store and never for a moment thought back to those kids I wanted to save. I just kept building. And I built what was later lovingly referred to as a magic little house on 12South. (I'm not bragging; people called it that!) I lined the inside with dark wood and leather-bound books, because I wanted it to look like the small libraries at Yale, the first home I had ever chosen for myself where once upon a time I felt safe. It was a house masquerading as a retail establishment where we sold lemonade on the porch, hula-hooped on the lawn, and held high school days where fashion-minded teens could "intern" for a day. It was a home more than it ever was a store.
And then we grew up, moved to something bigger, and dreamed accordingly. It was a playground where you could stay all day and chat. I'd serve up college counsel or resume editing from behind my bar, as if those were the services rendered. We'd sing or play pool or laugh or cry. You'd stay all day even though you had only popped in on your way to Whole Foods. It was home for us. The hatters were always slightly mad, the rabbits were always late, and no one ever lost their heads.
It's not that I set out to build a haven for the wonder-minded, but let's be honest: I put a giant wall of graffiti in the middle of the Hill Center where a Vera Bradley now sits. Surely, I was announcing something. So, it seems that somewhere along the way I lost sight of my mission. I just kept building what felt natural, but it seems I built the very thing I was supposed to let go of. I built a place for us to feel safe and welcome and empowered. I built us a home. I built us a wonderland.
My friend might have been wrong. You do hurt, sometimes like me, sometimes like you. And you do laugh. And you live, and you love, and you wear clothes. We all do.
So, thank you. All of you. I built for you and with you, and somewhere along the way I wove my heart back onto my sleeve.
Or I wear it on a chain, courtesy of Tarina Tarantino, hanging in the middle of my chest: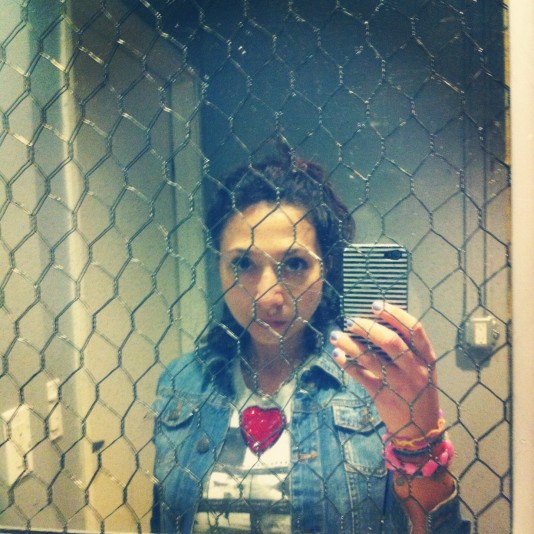 Or, thanks to the current Kate Spade collection, I wear it where my money goes: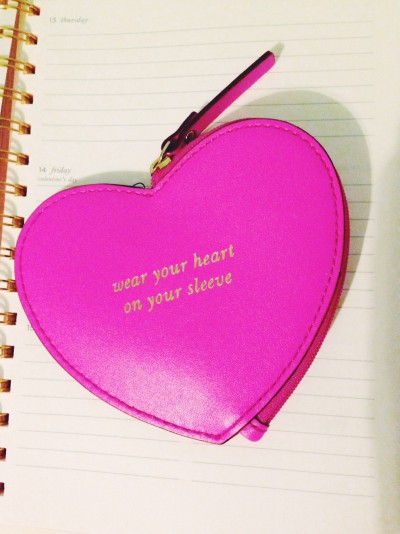 Happy love month, bunnies. Let's wear our hearts wherever we can!