February 16th, 2014
Travel by Twoelle
 If you follow me on Instagram or Twitter (@twoellerachel), you know that my mom and I have taken off to Texas. We're visiting family, so most of it is private, but I'm happy to guide you through what travel means to me and what I wear while doing it.
Here is travel by twoelle made simple: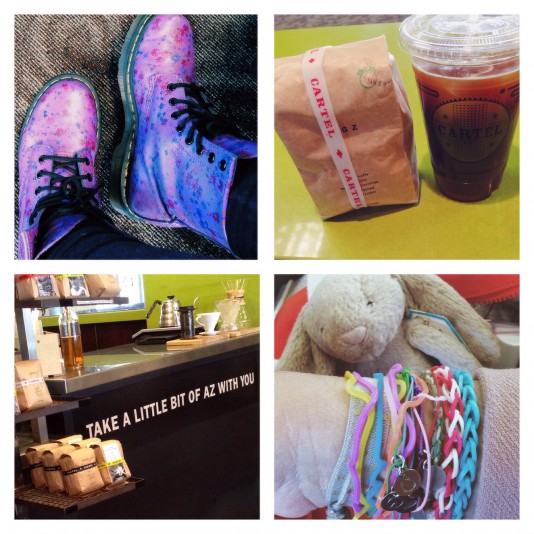 You arm yourself with what I refer to as Dr. Marten warrior boots (because, duh, warriors wear purple boots with tiny flowers on them). You stop at the Cartel in the Phoenix airport for a last taste. [The Phoenix airport has filled itself with quite the assortment of local businesses, a move that pleases me greatly, but that's a story for another time.] You toss Tweed Bunny in your carry-on. And you wear as many non-metal lucky wrist charms as you can.
My family lives in a small town outside of San Antonio. We spend most of our time there, but I did discover this local (pun obviously intended) San Antonio coffeeshop:
I bought the mug.
I love the font.
And their sign is everything:
While not in San Antonio, however, I was fueled by my very own, pack-it-in-your-suitcase Nespresso machine:
Oh, and although it has nothing to do with coffee (which seems to be the underlying message in the "how to travel like Rachel" category), my cousin did get me hooked on this Texas delicacy:
Oh, yes, kids. That is shaved ice, LOTS of lemon juice, pickles, and a red chili sauce. Don't ask. It is amazing.
xoxo.
#TexasForever