February 5th, 2014
Still Making Messes
If you're following me on Instagram (@twoellerachel), then you already know that I'm making good use of my A Beautiful Mess app and creating daily, well, beautiful messes. Here's what you've missed if you're not on Instagram. Above was a blustery day that threatened to blow me over my Kate Spade blue suede heels. I was protected by a purple Diesel beanie, a Madewell counting sheep sweater, Marc Jacobs leopard print pants, and bangles by Tarina Tarantino, Carolina Herrera,  Marc Jacobs, and my very own Rainbow Loom.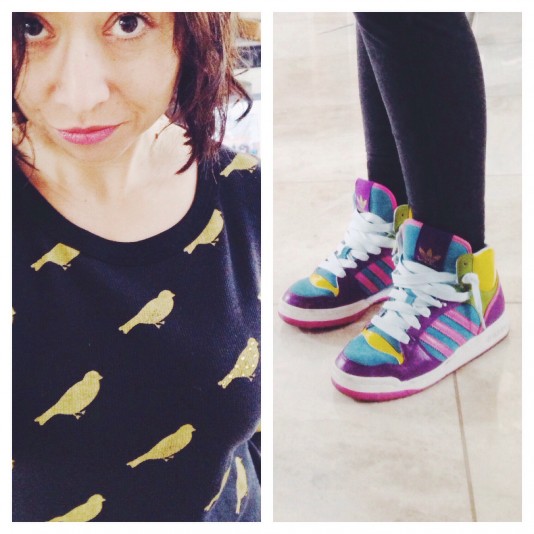 This was a sporty recreational day (not to be confused by the very present Nike Sporty Spice moment I'm living that I will surely tell you all about some other time). The birdie top is by Primp purchased at the wonderland formerly known as Two Elle, and the shoes are Adidas purchased perhaps a decade ago in the wonderland still known as New York City.
This was an academic day. J.Crew schoolboy blazer and loud pants that received a lot of notice. Banana Republic purple necklace (For real! Banana Republic circa 2003!). Sensible and classic saddle shoes by Rachel Antonoff for Bass. Madewell Paris tee. And the wrist of that day: Alex & Ani, Kate Spade Escape the Ordinary, and J.Crew.
I think I bought art supplies on this day, if memory serves. Chip & Pepper Tennessee Vols shirt for a look back. J.Crew holiday plaid pants, which kind of look like 90s Roger in Rent pants to me. Kate Spade blue suede again on the feet. Purple Diesel again on the head. And an inspirational assortment on the wrist including the Alex & Ani hummingbird and some more Rainbow Loom creations.
And finally….moments like this happen more often than I'm comfortable admitting with both New Girl and The Mindy Project. Apparently Fox uses my closet for Tuesday nights. At least I'm not the only beautifully messy one!
xoxo