October 28th, 2011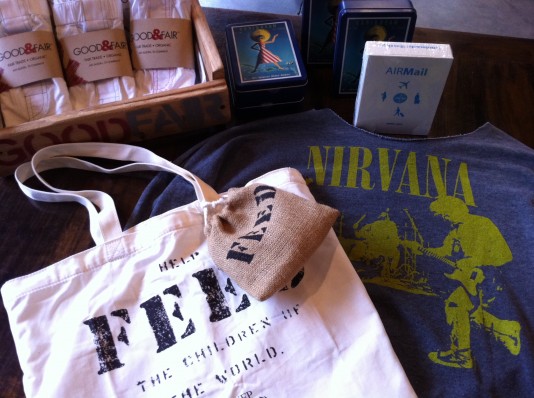 Oh, Nashville, we've noticed an undeniable truth: we are perpetually ahead of the trends. We were, for example, selling Pan Am bags back in 2008, long before Christina Ricci was a 90-pound flight attendant on ABC. Right now, we're all about casual, cozy, and conscientious: soft sweatshirts (the more of an 80s/90s tribute, the better) and fashion that serves a global function. And for those of you on the Pan Am kick (as we still are with our 60s-inspired Emily & Fin dresses), we have some lingering Pan Am notecards. Yes, we're all about the classics, and if handwriting someone a card isn't a nod to times past, then we don't know what is!
And speaking of television shows, here's a little-known fact: when not trend-spotting, Rachel's eyes are glued to the tube. Her fashion may be found here in our rabbit hole, but her TV musings are found at goodnightwonderland.tumblr.com.
So, come fly our friendly skies. We'll always keep you within a few years of what's happening live.