August 8th, 2009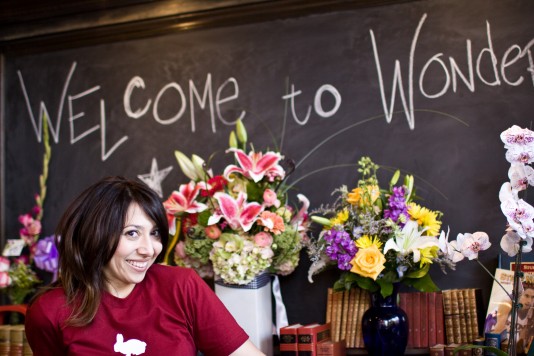 Friends, as you know, I seldom take personal moments on the blog. I like to  say "we" when I tell you stories. Well, tonight I'm going to say "I."
As I was surveying this evening's festivities, Skip Hopkins (who captured the above moment) said that I looked really happy. He was right. I often get lost in all the work I do for the store, but every now & then I get nights like tonight where I realize just how happy you all make me.
For starters, my staff warms my heart. When I told newcomer Ricky that this week they could set their own schedules and help whenever they wanted, he said, "But don't you worry that if they're not required to be there, they won't show up?" I just looked at him and said, "Oh, Ricky, you don't know my staff." Every day this week, I have had the pleasure of building this new store with Ellie, Phil, Stephen, Millie, Kristin, Britten, and Ricky, and none of them were required to be there. I try to give them hugs and cookies, but I don't always tell them how much they mean to me. Ellie has been my cheerleader and consultant through the maze that is this process. Without her, I might not have kept my cool, and I most certainly would not have laughed as much. Phil came on somewhat recently and has changed our world. My world is brighter and easier with him in it. Kristin, Britten, Stephen, Millie, and Ricky are far more than part-time help. It's not just that I'm happy with the work they do for me; I'm happy that I get to spend time with them everyday. And I feel so blessed that the fates aligned in such a way that Millie and Stephen came back in time for the opening, because the thought of doing this without them makes my heart hurt. And speaking of the "withouts," I got texts of love and support all day from Cameron & Amanda from out of town. Distance does not sever the team. I consider myself beyond lucky that I have assembled this crew. They make this a dream rather than a job.
And then there are my unsung heroes. I cannot imagine a family  more supportive than mine. My entire family flew in for tonight (Dad and Mikey arrived just in time!) and have been with me on every step, stumble, and leap of this. My mom and Adam have been in town for weeks helping me build this dream. Adam has worked 12South often against his will but never without a smile. Danny came in early to stay at the Hill Center until midnight and be back at 7 AM for more nights than he'd probably like to remember. And he has been my rock and creative eye throughout, so much so that I often don't know which ideas were his and which were mine. He gave me the confidence to dream, and I will be forever grateful. And family doesn't stop there, because I've made such good friends here in Nashville that they've started working for me and asked for nothing in return. Skip, Quinn, and Greg, I couldn't have done the move without you. Jenna & Kellie, come on!!!! Will your kindness never end!?!?! Family and friends have been here for me in a way that I will maybe never comprehend. I will sing your praises forever.
Words do not express. I love you all for following me down this rabbit hole. Let's keep exploring & enchanting. Welcome to my Wonderland!